This March, Game of Thrones: Winter is Coming, the browser-based multiplayer RPG has reached its third anniversary. And so, R2Games is celebrating the occasion with a series of events, free gifts and much more. Many special events and rewards await you, both new and veteran players will be able to enjoy them! Let's take a look: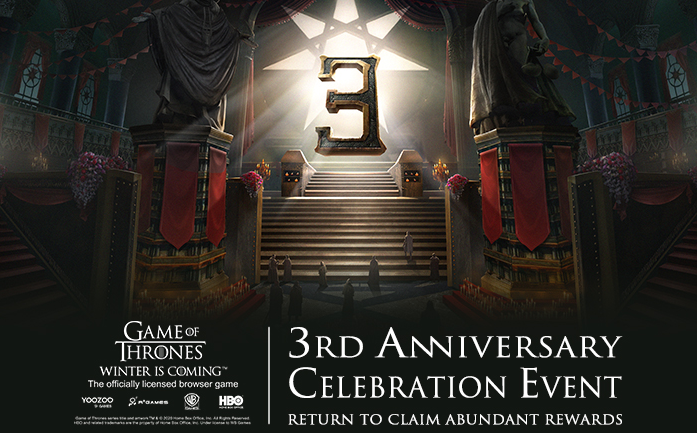 Anniversary Login Event
From March 3rd 2022 to April 1st 2022, log in everyday to claim free gifts including Blessing Stones, Universal Troop Medals, Book of Wisdom Chests and more. There is a chance to claim free gifts every day to boost your power, which will give you a head-start if it is your first time playing!
More Special Events to Come
A series of events will be available with a chance to try out new events and limited time events filled with rewards. Players login in March will receive abundant rewards including Blessing Stone, Transnational Relocation and more. Remember to check your giftpack on R2Games through the inbox of your account.
In addition to R2Games platform exclusive codes event, a new season of alliance conquest will start! GoT WiC will introduce an optimized version of Alliance Conquest where new buildings and alliance skills will be added. The new season will kick off on March 29th 2022. Plus, players will be able to awaken Simon Blackmyre in the new season. Call on your alliance members and get your equipment ready!
New commander coming
What's more, following Merrel Peake, a new commander will be available during the 3rd anniversary. Who are you looking for the most? Solve the mystery!
Many new events have been added to the game for the anniversary month! Comment on Facebook or join our Discord Channel and tell us your best stories and adventures of the last year!

About R2Games
R2Games.COM is a well-established industry giant specializing in global Free-to-Play browser video game publishing. We strive to bring great titles to gamers worldwide.
Find more funny games via http://www.r2games.com/.
Facebook: https://www.facebook.com/R2gamesGOT
BY WWGDB