We are excited to invite all of you to join us in the GoTWiC 3-year anniversary party! To reward your continuous love and support, we've prepared a series of events and free gifts for you. Starting from March. 3rd, you can login game every day to claim FREE GIFTS and try out new events. Come and take a look at what will be coming up!

Entrance: Click the "3rd Anniversary" icon on the upper corner of the game interface.
Event duration: 03/03/2022– 09/04/2022 UTC
Requirement: Players with a castle level 20 or above from the unprotected kingdoms
Anniversary Festival Sign In
Event Duration: 03/03/2022– 01/04/2022 UTC
Event Description:
Happy 3rd Anniversary!
From March 3rd 2022 to April 1st 2022, log in to sign in every day to claim free gifts including Blessing Stones, Universal Troop Medals, Book of Wisdom Chests and more. Don't miss out!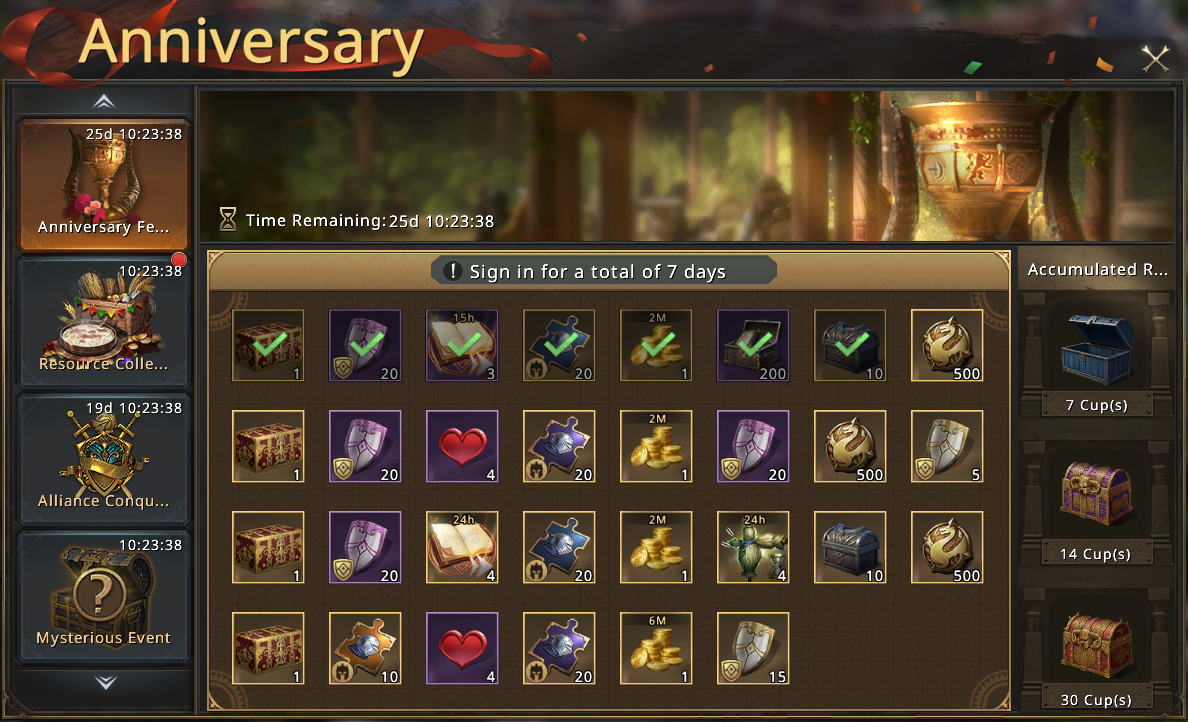 Resource Collection
Event Duration: 07/03/2022 — 09/03/2022 UTC
Event Description:
Complete various tasks to collect the materials required to earn as many points as possible. The higher the rank, the better the rewards.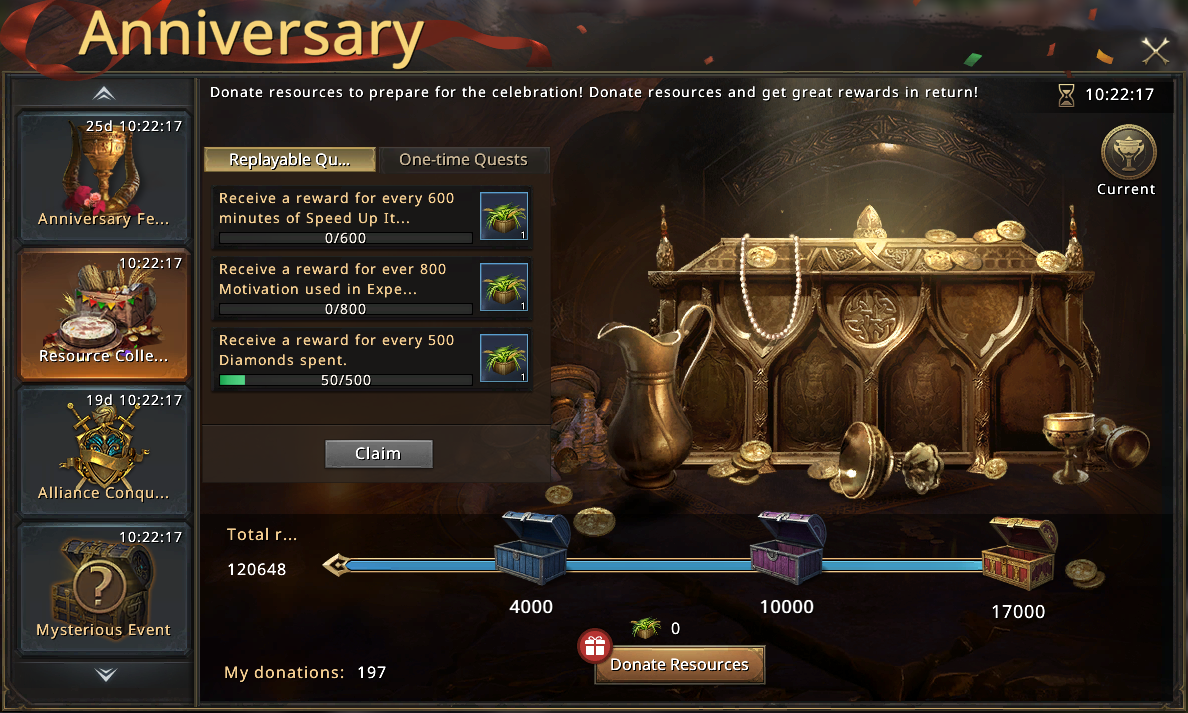 Hunting Festival
Event Duration: 15/03/2022 — 17/03/2022 UTC
Event Description:
Who is the best sharpshooter bowman of the Seven Kingdoms? [Ancient] Dragon Passive Skill Selection Chest, Refined Rough, S Universal Troop Medal, Honor Banner and more items are waiting for you! Best of luck!
Awakening a Commander
Event Duration: Stay tuned!
Event Description:
Following Merrel Peake, a female commander will be available to being awakened during the 3rd anniversary party. Stay tuned!
GoT WiC 3rd Anniversary Special Page
Event Duration: 21/03/2022 00:00:00—10/04/2022 00:00:00 UTC
Entrance: Click the event icon on the 3rd-anniversary festival interface to join.
Requirement: Players with a level 17 or above castle
Event Description:
Visit the special 3-year anniversary page to check-in and to receive rewards including Blessing Stone and Transnational Relocation. Additionally, you'll be able to unlock limited avatar frame and permanent castle exterior once you meet certain requirements. Don't forget to generate your yearly-report and share it with your friends!
New Season of Alliance Conquest
We'll be introducing an optimized version of Alliance Conquest where new buildings and alliance skills will be added. The new season will kick off on March 29th 2022. Plus, players will be able to awaken Simon Blackmyre in the new season. Call on your alliance members and get your equipment ready!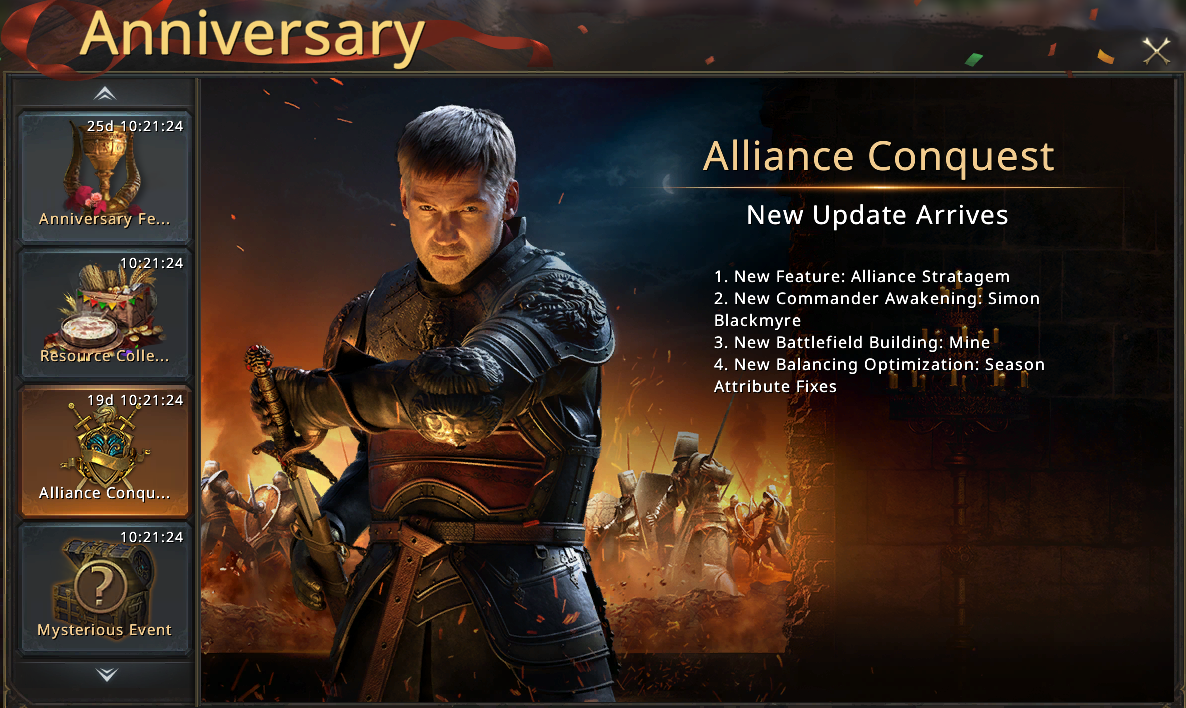 We hope you enjoy the anniversary party!
Please note that the above content might be adjusted due to the changes of the development plan. Final updates will be determined in-game.
Facebook: https://www.facebook.com/R2gamesGOT